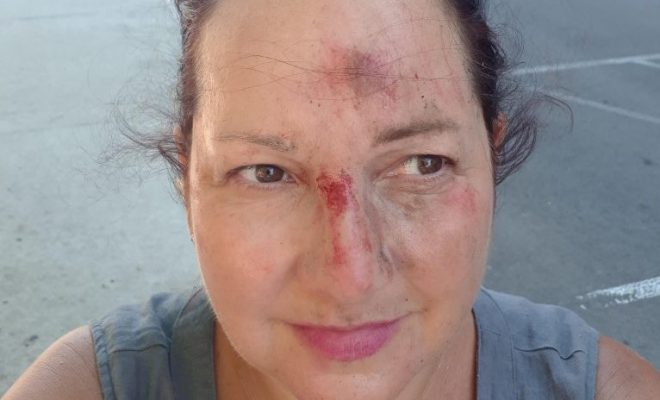 Day Trips
Summer Interrupted to a Screeching halt
By |
Humbled by the Pavement
My face is dragging across asphalt. Stripped raw. Instead of rolling over, my face is in full, literal, drag. I can feel the burn of layers of skin mercilessly grinding away in stop motion. Hitting the ground, I cannot recall. My knees dig in to the moving ground for support.
Humbled by the earth's gravity, My hands soothe my brow bone and check my nose. My ego has taken a good skull shakedown. Now I am lying on my back. Where is the pain? Have my sunglasses fallen off? My eyes are still closed. One eye open, I can see. Relief. I know better than to get up. I hear voices. Something about masks. I am fully conscious. "You're bleeding," says the woman with a faint British accent.
My Inner Flight Attendant
"In the bike basket is my bag, there is a mask, a towel, use anything…I am just going to wait a minute before I get up." The first aid instinct in me kicks in. All that flight attendant training. Will I need a sling, alcohol wipes, an ice pack? Am i dizzy? No. Did I lose consciousness? No. My back seems to be intact. The bike basket is laden with beach goer supplies. I was on my way to meet a friend. I put on my mask. Biking from Burlington to Hamilton had become my triumphant solo journey. My personal best activity of the corona pandemic.
No Coincidence
The lady that found me takes the MEC camping towel from my basket and dabs the bridge of my nose. I open the second eye, grateful to see the tree tops and sky. My knees ache from the impact. After 5 minutes, I roll sideways, then, onto my aching knees, and get back on my feet. I witness the bike that betrayed my ego. I limp to retrieve it without a grudge. Although I gratefully did not black out, I do not remember the impact of my skull hitting the pavement. There is a gap between being on my bike, seeing the flimsy pink hat flying off my head, and landing on the ground.
The truth is, I was not wearing a bike helmet. I was meaning to put it on, but I was enjoying the fresh air, the greenery, of the paths less taken. The Burlington bike paths cut through the city streets, offering a flora and fauna refuge to pedestrians, roller bladers and those on a stroll.
Like the nurse and first aider that were walking as I zoomed by them, ringing my bell. They found me flat on the pavement.
Coincidence? I think not. The embarrassment of the fall is overshadowed by gratitude for my life, my skull, my spine, my limbs, my eyes, my nose, my cognizance. And the chance to one day, walk, then ride again. I thank the good samaritans. I thank my lucky stars.
If in this lesson, I can prevent one adult from riding without proper head gear, then, that is the message I am supposed to share. My cap shielded me from the sun, but was a flimsy, useless distraction. It was flying off my head. I went to grab it and lost control of my bike. I remember the pink hat on the ground, looking back, not applying the brakes, and then, boom. My sunglasses saved my vision, but the metal frame cut deep into the soft part at the top of my nose. It could have been so much worse. I know my ego got a deserving smack.
Although a heaviness was felt in my head, I thankfully limped away from this accident without a cracked skull. I limp past village square walking my wonky bike and I stop to take a selfie to assess the facial damage. Many a bridal couple was photographed against the European looking columns. My first aid savior and nurse pass me and wish me well, knowing I am getting a ride shortly from my dad. I lean my bike outside the Coffee Culture on Brant street. I buy a coke for the nausea and ask for a bag of ice. My face is clotting with red. Silence from the masked cashiers. She hands me the bag and serves the next customer.
I ice my head at a cafe table soaking my head, dripping water all over the table, my clothes, the floor. My 89 years young father picks up my broken self, we load the bike halfway into the trunk and tie the ropes. We drop off my bike for some damage control to an empathetic owner from Action Bikes on Brant Street.
My ice pack has been in my lap, and now my pants and the bottom of my shirt are soaking wet down the front of me. Smooshed with blood, wet pants, he sensed my amateur skill.
"Oooh…what happened?! Well, we have all done it," says Dave unloading my bike from the trunk. "Take care of yourself, okay? I'll take care of your bike and get you ship shape." Then, we headed for Joseph Brant Hospital for some triage amid pandemic times.
With all the imaging done on my head, knees, right hand, I was lucky enough to only have one broken ring finger at the knuckle. The imaging took a few hours while I was wheeled on a stretcher lined with a flat plastic board to protect my back. I was wheeled from hallways, to lobbies, to x-rays to recovery rooms. There was a lot of time for inner reflection.
I felt only dull aches in the hospital. The grill marks on my face felt like faint scrapes. My knees felt like the caps were damaged. My right hand was less flexible. I noticed a bruise at the base of my ring finger. But there was a protective shock that seemed to guard me from feeling searing pain. The impact of the initial fall seemed to be the worst of it. I refused a pain pill, because for some reason, my body was self soothing. I felt like I was slightly detached from my physical being. I was already on the road to healing. I was calm. I asked a few friends to send positive energy and a prayer my way. I felt waves of oceanic peace.
The Next Two Weeks of Healing…
I slather vitamin e cream and aloe vera day gel day and night for two weeks as my face scabs to heal the wounds. The doctor warned me I may get black eyes. The swelling around my eyes becomes greenish under the skin. I take arnica for the inner bruising, vitamins for my brain and immune system, anti-inflammatory smoothies with aloe. I rest. I meditate to expedite the healing. I am shaken, and stirred, but steady. I am so grateful.
The basket at the front of my bike is crushed from breaking my fall. The helmet that was dangling unused from my handle bar cracked, also, somehow, cushioned the blow. My initial cast on my right hand to protect my ring finger is now replaced with a temporary, removable cast of choice, in fuchsia velcro and a royal blue plastic piece that hugs my knuckles. I engage in finger bending physio to relieve the stiffness. I avoid the sun till evening and protect my face.
Crowning Achievement and a Personal Vow
A new wheel, a new basket, new brakes and a helmet forever, and ever, from now on. In 3 more weeks, I will be back at it again. The truth is, I cannot wait to start biking again. I am also considering leather gloves to protect my digits and the pads of my palms.
Taking Flight
The freedom of moving through the air on a bicycle is a lot like taking flight. Unlike the plane, I can feel the wind blowing my hair back and the warmth of the sun cheering me on. The steady speed of my weightless being, present, in an ever changing landscape. Call it, an ode to biking. Riding along Lake Ontario's shores, from Spencer Smith park towards Confederation Park, has been my summer crowning achievement. A good 20 km round trip, plus the distance from my house.
An Ode to Biking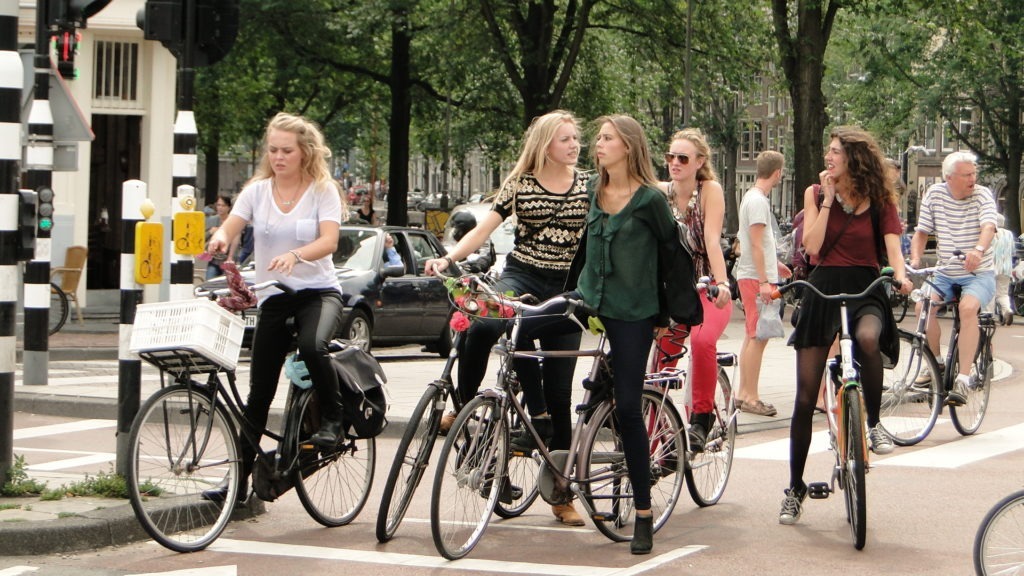 I was inspired by Amsterdam's bike culture, on my many layover trips to the Netherlands. They do everything, everyday on their bikes, often without a helmet. They are experienced riders with dedicated bike lanes, obeying traffic laws and weaving seamlessly through the canals of the city. In Amsterdam, bikes rule, cars are a rare sight. Social distancing measures and travel bans to travel abroad have caused bicycles, and parts, to sell out locally, as citizens explore our home and native land. Next goal? More lakeside biking as well as the Hamilton Rail Trail.
A Looming Modelling Gig in the Aftermath
My agent sends me an email for a hair client that wants some recent pictures before a mid-august shoot. It is still the audition stage. Gratefully, my scabs have fallen off, just in time. I am left with pink skin at the top of the nose and less pink on my healed forehead. I pull out my full kit of makeup for the first time since quarantining in March. I dab the concealer, fill in my brows, a little gold on the eyes. I powder the foundation to mask the wound on the upper bridge of my nose. And, voila!
A little Chanel Soleil Tan golden cream on the cheeks, neutral gloss on lined lips, and a new, unworn dress. I set my hair in velcro rollers at my mother's handy dandy hair salon and park myself under the hair dryer dome. I release the velcro and shake my head upside down. I can still feel the waning heaviness from two weeks ago around my nose and cheeks. I flip my hair up and shake it all off. The curtain calls. I make my first selfie debut post bike accident. Before the accident, this accidental photo captured by friend Alexis Lagos of Laceup Imagery. Then again, there is no coincidence.
Hair Toss, Shake My head. From the Portfolio of Paula Erskine. VMTM agency, Wilfer Torres Makeup, Duarte of Studio Hair Design, Toronto
A Storied Face
For better or worse, this is who I am, and what I look like so far. Every setback takes processing. It does not matter if I get the job or not. Facing forward, hair tossed back, I play with the camera and the evening sun. My face is storied. It reflects all that has impacted my life until now. Let me be the poster adult for bike helmets; for a lesson well learned. A life more biked. A world more traveled. Let me make new memories to crowd this fading memory out into distant history.
Elevated Luster
I am making selfies for my agent in my mother's backyard oasis. The gratitude for my life is pouring through my cells. My eyes speak to the camera. They emit a humble victory at the mercy of the Mother Earth. The joy is palpable. Every hair on my head is saluting the powers that be. I feel an elevated luster from within. I snap a few shots from my cell, and check the photos. I cannot contain my relief. The "joie de vivre" returns. Inner jubilance is rising. Reigning in the ego, I live to breath another day. I can feel the halo of the sun hugging me warmly, in all its sunset glory.