Beauty On The Fly
A Flight Attendant's $$ Saving Tips: Footwear and Clothing for Vibrant Seniors, Energetic Shift Workers and Loving Caregivers
By |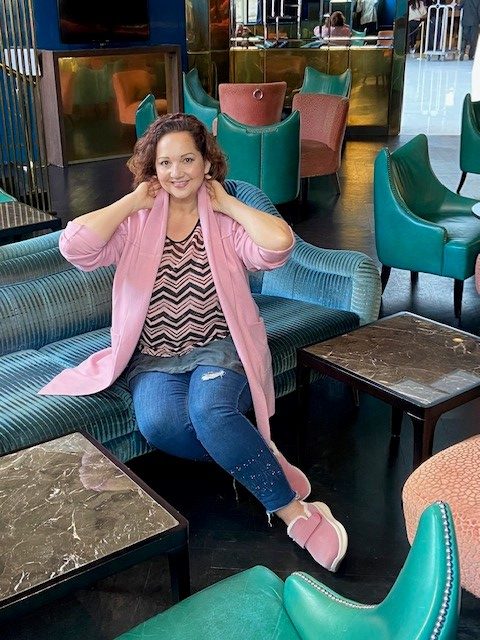 Put More Bounce to the Ounce (In Your Step!)
by Paula Erskine @catwalktorunway
For a very limited time, ending soon, I can offer my promo code at the online Silverts checkout. Use PAULA20 to get 20% off while shopping for all your caregiving needs and help yourself to some fab finds at https://www.silverts.com Then leave them a review! It will earn you an extra coupon on your next purchase, as a thank you. To save a little time, here are some Silverts treasures you won't want to miss out on.
Life Affirming Shoes for Men and Women
Let me introduce you to the shoes that have changed my mother's life, forever for the better. My mom Carmela is a dynamo. These extra wide, sherpa lined non-slip shoes with cushioned comfort make her forget her bunions. She feels more balanced and secure in every step. The velcro strap on top make them that much easier to dress her fine self. As a part time hairstylist now at 80, she really needed that support for all her creative and social pursuits. But seriously, how gorgeous are these pink shoes?
Sherpa Chic Shoes, in Pink, Navy and Black
And as a flight attendant that "walks across the pond" of the ocean to Europe and navigates cobblestone streets on my layovers, I couldn't agree more that Silvert's shoes are exceptionally designed for maximum support. I was able to test drive the pink and indigo blue sherpa lined shoes on my recent layovers including beloved Portugal. They passed and surpassed all my comfort and fashion expectations in pink, navy and black! If you are a shift worker with long days and nights ahead of you, these shoes are a total game changer.
Mary Jane Shoes with Cushion for Miles
But wait, there's black Mary Jane shoes with just as much comfort! I spent 6 hours exploring Lisbon's tiled walls and intricate alleys in fabulous cardigans of classic houndstooth and scarlet, a cool, blue-toned red that paired well with each of the shoes. Let me put it this way, my legs felt the exercise, but my feet showed zero signs of fatigue! Not one blister, hours of meandering, even without socks! Clouds of comfort enveloped my feet into bliss the whole sleep deprived day! In flight attendant world, so worth it!
My mom was so impressed with the style and comfort combo! Every shoe from Silverts shown here fit her perfectly. The cardigans have no buttons or zippers and wrap beautifully and make it easy to get dressed for mom. The deep pockets are a nice touch. They are more than just "sweaters" because they fit like "jackets." And my mom and I love jacket style on jeans and leggings. A jacket style always takes an outfit up a notch. The bonus is, the comfort, stretchy fit and warmth of a sweater. Brilliant!
Mom Radiating in a Charcoal Hoodie and Cozy Boots
Isn't she lovely? Carmela is 80 years strong and getting in on the Silvert's fashion train. She is putting her own spin on non-slip, lined boots and a charcoal hoodie with a gold and leather look. We share Silvert's clothes with each other and mix and match it into our entire wardrobes. Where do you think I got all this posing stuff from? Plus I feel secure knowing the shoes are extra wide and feature non-slip grip.
Quilted and Reversible in Black and Silver
Three Ways to Wear This Quilted Jacket
Silvert's Reversible Jacket is a Stunner
Not only can you choose to wear it in silver or black, the sleeves are detachable. So it can be worn like an elongated tunic top or vest. Midnight blue and green was another colour option in the reversible jacket style you can find by clicking the clearance section here. As we move into spring, there are no better options to layer one's fashionable look than long cardigans with deep pockets, comfortable yet fashionable shoes and so much more.
My 91 year old Dad Sporting Silvert's Sharp Runners
So my dad loves these gray Silvert's shoes on his 6'3″ frame. His feet are between 11.5 and 12 so I went with a 12 and he said they were very comfortable. They are extra wide, no laces and slip on easy. It made me feel secure to know the bottoms had grip and a handy loop to pull them on. He also noticed the cushioning with each step as he walked. My dad played squash, then tennis, then pickle ball till he was 87. So this sporty gray stylin' runner is right in his court. So, you know what he did? He put them on, got in the car, and drove his sharp looking self to the shops to do a little grocery shopping. 91 is just a number, after all.
Go Ahead Silverts, Because You Are Making My Dad's Day…
Yes, Ian senior looks like Clint Eastwood, just a little, especially the smile department. He also enjoyed the easy to put on Simcan diabetic socks. As a tall man, it can be challenging to get dressed. Even though he does not have diabetes, the socks are non-constrictive which he has complained about before, with a seamless toe (eliminates toe irritation), sag resistant, wicks moisture and are easy to put on for him.
Shift Workers and Caregivers Enjoy Silvert's Comfy Gear Too
Caregivers can find more quality items for men right here https://www.silverts.com/ca/men. Their shoes are just incredible (extra wide features) and are true to size, even providing half sizes and inserts in most styles to tweak the fit. All Silverts clothes have a unique size chart with generous sizing from XS to 3XL in most of the clothing. How refreshing it is to see a size and color range to keep our mood uplifted and a sense of style that continue to match our inner sparkle at every milestone.
Want more life lessons, travel experiences and fashion finds in your feed? Subscribe to my blog and feel free to follow me on instagram @catwalktorunway
Sherpa Shawls with Sherpa Shoes Usher in Spring
Drop a comment, I would love to hear from you!