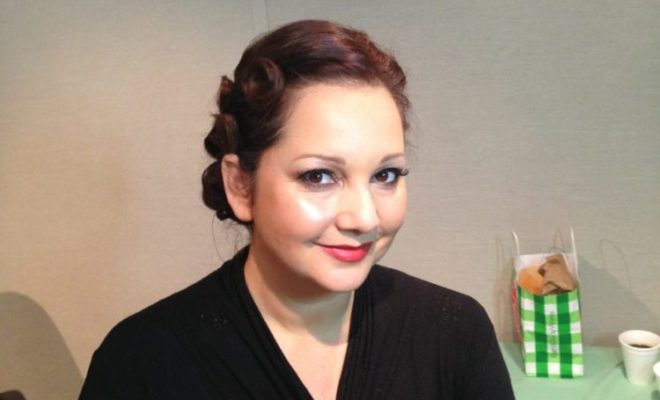 Model Tips And Tricks
Modelling Again, Never Say Never
By |
The stars seemed to be aligned as door after door opened to bring me surprisingly back into the modelling arena again. Alexis Lagos, of www.lacedupimagery.com had bought me a ticket to a fashion show being held last fall in downtown Burlington. Earlier that day, I had visited the Burlington Arts Centre to assess the same room for a completely unrelated event. There, I spotted co-owner of Vogue models Sandie. I re-introduce myself, but because there were very few plus size models that they had employed, I was delighted that she remembered me. After telling her about my career as a flight attendant, she asked me, "Why don't you come back?" Reluctantly, I said, I don't have time. Don't you have anyone? She said, "she has tattoos!" We both scoffed at this. When I was with agencies Sherrida (possibly the best agency I have ever worked for, and at the perfect time in my career) in Toronto and Ford, I also moonlighted with some runway shows for then solo owner and model/actor Mike from Vogue. We had seen each other in waiting rooms at other gigs and I gave him my comp card (a composite card with head shot, fashion shots, and measurements).
I didn't know how I could fit it into my flying schedule again. My seniority has become quite good by now, and I can choose longer layovers overseas and gather some per diem (money assigned for meals, but with a little budgeting, can be saved for shopping or paying bills). Flying had become a far better way to make a living than waiting three months for a modelling paycheck, working a few times each season, and watching a check reduced to series of agency deductions and fees. And I say this of some of the agencies I worked for, which never stopped deducting for mysterious, automatic re-orders of my composite card for $99 a pop, mysterious, unproveable long distance calls for "potential clients" in other cities that I never worked for, courier charges of same composite card to unknown U.S. clients, and obligatory self-produced video shoots that such agencies claimed was for U.S. clients and deducted $150 from each model's paycheck times over 100 models. Let's all do the math on that one since it happened about 3 times a year up until the year Ford, there I said it, closed it's doors in Toronto, forever.
I worked for the same 10 clients for two decades. It is justifiable if one's composite card was actually updated and completely different from year to year, if not sooner. But over and over, said agency re-ordered the same $99 for 50 cards every 3 months, sent to the same 10 clients, who knew me well. I say that not because I was "the best" in any way. It is just that out of 8 plus size models in Toronto, about 3 or 4 of us managed to find time for modelling bookings around our other jobs for many years. We had a reputation for being professional, punctual, hair and makeup ready, available, friendly, likable, and most importantly, we fit the sample sizes.
There were about 4 main studios producing most of the flyers and catalogues. And hiring us, were the fashion stylists. They knew our measurements matched the sample sizes and as long as the clients were happy, we got hired. We built relationships with these stylists and photographers. I was always friendly with the assistant photographers, who, never forgot when you took the time to chat and crack jokes as the test polaroid developed, and later, the digital test shot, before the shoot got rolling. Assistant photographers became lead photographers with which the base of a friendly relationship had been formed. But I have gone off on a tangent here, only to explain a bit about the inevitability of leaving the modelling world simply because it did not pay the bills.
Cut to this time, last year…after a 5 year absence from the modelling world…
Upon attending the downtown fashion show as a spectator, I was warmly greeted by Mike, owner of Vogue. Actually, Sandie must have mentioned that she had seen me, because there were hundreds in attendance as Mike collected the tickets for prizes. We watched the runway show, with music pumping, and marvelling at the models in their towering heels navigating steps, levels, and runway. Alexis asked me, "do you miss it?" And I had to say, that yes, I missed that live feedback you get from a runway stage with music setting that upbeat, "come on, why don't you shop?" mood.
One month later, I got an email from Vogue. They had a job for me in January. They had gotten my email from the prize ballots. So I booked my days off from flying, and committed to two weekends of runway shows. Fridays were rehearsals and fittings for several retailers. I studied the choreography and lineup from a well organized sheet and made notes with a pen. It was a bit nerve wrecking. I was worried about walking in high heels and falling. I hadn't walked in heels in 5 years because of foot issues, which have since subsided thanks to compression stockings and orthopedic shoes. I bought a metallic pair for a wedding that were suitable and perfect for the wedding themed shows. I had also picked up a patent nude pair of heels from Guess in The Bay on sale. After many years of modelling, one tends to buy shoes that one can invest in a model bag. This is always subtracted by how much the job is actually worth. I bought the shoes just months before knowing I would do the show. Yet how I buy shoes, always has that practical factor. Then, I invested in clear, industrial packing tape. And I packed those size 9 and 1/2s and taped my shoes in on the soles and back of the heel. I was apprehensive about tripping and/or stepping out of my shoes. The tape gave me confidence.
Saturday and Sunday of each weekend consisted of two shows in the afternoon. Hair and makeup was provided in the mid-morning and I couldn't have been more delighted. One thing that I miss about modelling is getting my hair and makeup done. Lashes, pin curled up dos, air brushing foundation finishes were a highlight. The part I don't miss is that the whole production took two entire weekends from morning to dinner time plus friday night to prepare. But in hindsight, I have no regrets. My outfits ranged from bride to bridesmaid to mother of the bride. I particularly fell in love with a teal gown from Mirella's Boutique (Burlington) with encrusted jewels that flowed to the ground. I felt like I was in an haute couture gown built for me.
Feeling grateful for being given the opportunity to model the catwalk, I strutted, and gladly posed at the end of the runway to an appreciative audience. Here is what I didn't expect. That after meditating for about 5 years now, I have in particular instances, felt absolutely blissful vibes in my meditation class, watching movies that appeal to my soul or spirit, and certain types of music written or played from the artist's heart. It is like a rush or flow that feels like it is pouring out of me. And that is what happened on the stage those 4 days. Once my nerves subsided after the first show, I felt that rush inside that made me smile from the heart and soul. The music was helping me float down the stage. An electric violinist played Vivaldi on stage for the finale and I felt like this music was coursing through my veins. I was glowing from every nerve ending. It was so surprising for me to feel such joy while modelling. But I had got into the good habit of clearing my mind lately. I knew that meditation would help me to strut my stuff. I was so delighted that I was enjoying the whole process to such a heightened degree. I was beaming. Which for bridal wear, is probably a good thing.
I realized that I have always enjoyed the social aspect of building relationships in the modelling world. Modelling would not have been possible for me had I been anything less than a fairly proportioned, 5'9″, photogenic, comfortable in my skin, full figured model. A professional reputation, friendly personality and availability blessed me with longevity in the fashion industry. Upon revisiting the modelling catwalk, I was relieved that my taped feet did not fail me in my heels. The bonus of having gained some momentum spiritually, turned this privileged opportunity into an absolute pleasure to the core of my being.