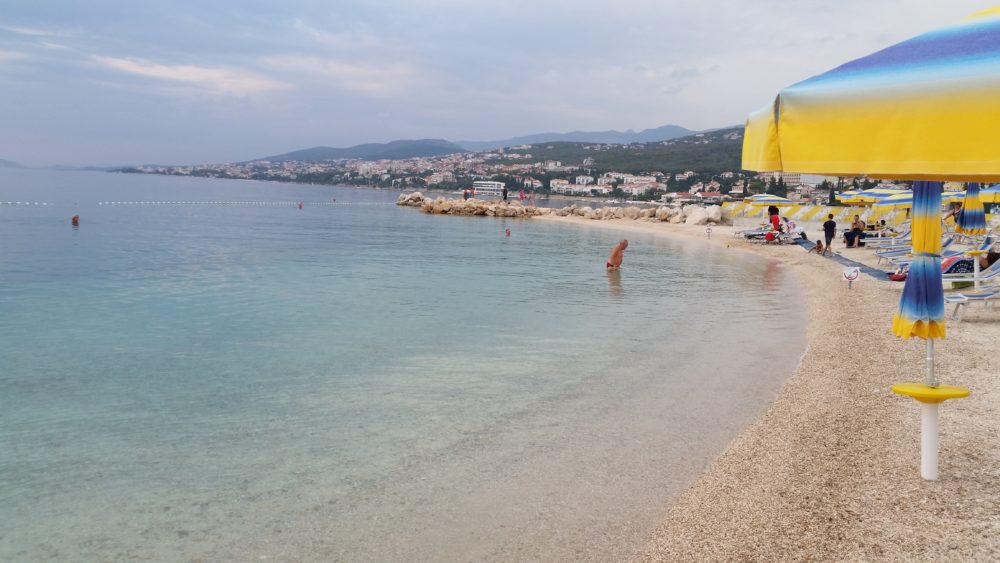 Best Beaches
Countdown to Croatia Direct Flights 2017; Plus Must See, Do, Experiences of the Adriatic Coast-Selce-Crikvenica to Rijeka
By |
It's not too late to get a great deal flying direct to Zagreb with Air Transat airlines now servicing Croatia's capital Zagreb twice per week in 2017. Visit www.airtransat.com to fly to Croatia for around $1000 direct!
(Above, image of Kava Tava, Zagreb, all images photographed by Paula Erskine)
(Smart travellers booked end of season last year, around September, October and took advantage of round trip fairs for around $800 for 2017, by booking in late 2016!) Book as soon as you can for prices that still are very decent for truly direct flights to Zagreb, averaging 8 and a half hours flight from Toronto to Zagreb (although the flights are blocked for 9 to 9 and a half, it is less than that.) The new Zagreb airport will be open in 2017 and many are looking forward to landing at an airport built to accommodate the volume of tourists that have just discovered Croatia, or are introducing their kids and grandkids to the mother land and keeping them connected to familial roots.
Let's take a photographic journey through the Primorje Region (pronounced Preemor-yeh) of Croatia's Adriatic coastline and discover great things to see, do, eat…starting with Selce and the Crikvenica villages, and later heading towards Rijeka for a dessert bakery with ancient evidence of a mill displayed from under the floor of the café. We will also enjoy the view of Selce has of Krk island and its treasures. Selce behind the scenes, behind Marsala (Marshala Tita) street has many unique alleys and vignettes that please the artist within.


Inspired artworks can be found by Marijan Mavric, local Croat artist in this Art Laundry Gallery in the village of Selce. Just walk up the hill of Slavka Jelicica street (left, and behind the Tourist Agency on the Riviera) for a local Croatian artist with real talent. It is my mother's childhood friend, and without prejudice, has many stories expressed in paint and canvas. A great place for contemplation away from the madding crowd of the Riviera. After doing and visiting Art Laundry, head further up the hill to Marsala Tita on your right (single file as the sidewalk is tiny), take a right then first left and get lost in the alleys of Selce. Find your way back to the sea by walking downhill towards the Adriatic sea and panoramic Riviera.
Marijan Mavric, Croatian Artist can sometimes be found in the evenings in Selce, at Art Laundry, or his gallery in Grizane . His landscapes capture his surroundings, resembling in some paintings the island of Krk just across the way, where many Selce residents have simple farms with stony-stacked fences, fig trees, potatoes, tomatoes and many other crops. My mother asked him if he is in front of these places when he actually paints them…he said, "It comes from my head, my imagination, my memories…" Having visited many of these corners of Krk island and other Adriatic gems, I can affirm, these places exist, and they are beautiful.


Selce has a variety of beaches, you can watch Mihuric Scuba Divers suit up and set out to explore a shipwreck. In the distance past the campground, is the beaches of Slane, Selce, and up the campground steps, follow the forested trail to one of Selce's many pristine beaches.


Selce's beach in front of the Tunar Restaurant shaped like a boat is great for families who want to ease in to shallow waters with kids and eat at Tunar's restaurant. I enjoyed the generous, protein packed salads grilled with salmon (lots of tasty options at Tunar) and along with Kava Anka (kava means coffee, café) on the other side of Selce, are two of the best places to eat locally home-made ice cream. Both places also do coffee very deliciously, and the combination of them both, is quite decadent. Café Bonino in Selce has delicious food and a beautiful view of the beach and the docked boats of locals, with generous sized pizzas and fried squid (ligne, or calimare in Italian) all on Selce's Riviera.
Next, we peek at my mother's childhood home in Selce, a place I got to know and love as a child enjoying home-made morsels cooked by my grandmother and my mother with love oozing straight from their hands to my satisfied belly.
Be sure to buy fresh figs while on the Adriatic coast or you can sneak a fig from many of the houses that enjoy their fruits. Then enjoy the home-made jam and bring it home. You can bring anything back into Canada that does not grow in Canada. But a fresh fig, is mouth watering. Below the fig jam beginnings, potatoes coated with spinach, garlic and lemon, grilled zucchinis, and chufte (breaded meat-burgers), any meat you like, with delectable garden spices and parsley. Don't forget the sautéed garlic and onions!
Also my mom's cabbage rolls (sarma, similar to the Romanian style) with slabs of pork juices on top melting into the flavours of mixed meats and rice. I always make my mom add extra water a little at a time to make it soupy for me. I just love that sour-savoury combination. And don't forget that other than home-made, the best place to eat Croatia's seafood delicacies such as lignje (leeg-nyeh) or calamari or squid, grilled or fried, is Venus on Selce's Riviera which is always packed with locals and tourists. Their grilled squid is drizzled in olive oil, parsley, garlic and melt in your mouth. Café Bonino and Rokan across from Tunar have good squid too, but Venus is the best.
Krk island has at least 3 great places to eat fried squid in the village of Vrbnik, including Lucy's up the hill (very generous portions), the port restaurant, and in the many restaurants for a lunch time trip across the Bay of Kvarner.
My grandmother's home…also known as my baba…

Selce's artistic and quaint corners…

Savoury cabbage rolls only mama can make…
Fried squid, or grilled, or both…worth a try…if they are too big or too chewy, you got "tultsi" which are cheaper, and not real squid. Many good restaurants do have pictures to explain the menu and accommodate the many world-wide travellers that enjoy the Croatian cuisine.
Selce's Riviera…just park that convertible and stroll, swim, eat, explore…

On the border of Selce and Crikvenica (Selce being the beach town portion with superior beaches and atmosphere, a Zabavna (Fun/Arcade) Park and Crikvenica being a bit more of a city with more variety of shops), right next door, is Duga Mall which houses a café veranda view of a section of Krk Island's rocky coastline that will take your breath away. You can park underground, go above ground level, and this photo does not do the view justice. The cappuccinos and drinks are good but the view is priceless. It was very hard to leave the serene vista, so we took our time. Duga Mall has a few shops and groceries, but in general, Croatia is very affordable.

Around the corner from Duga Mall is Café Ognjisce (Ognishchyeh) which has the best, most tasty cevapcici (chevaps, or chevapchichi) I have ever had in the area. My local cousins took me here and we ate these barbecued meat morsels with Ajvar (mild red pepper chutney) with such pleasure. We took the rest, to go. We fed lots of relatives with this platter. It was heaven. Ask your Taxi driver to take you here, then go for coffee at Duga Mall upstairs on the veranda (write down the names, show the driver). Well worth it. Come hungry. You know it's a good place when you see Construction employees and locals frequenting Croatia's restaurants, it fits their budget too.
La
Another wonderful place to enjoy is the bakery Cukerin in Rijeka (take a bus or get a ride from Selce to Reeyehkah. (also known as Fume, Foohmeh in Italian). Cukerin (comes from the word meaning "sugar") and has wonderful pastries and coffee (kava). Unique to Cukerin, is that when they constructed it, they discovered evidence of ancient wheat stores below, so they gave the café a glass bottom to enjoy a history of a wheat mill in this very spot. The atmosphere is creative, colourful, and well worth navigating the tricky alleys behind Rijeka's bustling shopping streets. There are very unique shops hidden behind the main promenade. I personally know the bakers at Cukerin, who bake with lots of love and care. You can taste it! We pre-ordered lemon cookies, cinnamon cookies and chocolate pie to bring to friends back in Canada. The chocolate pie is one of my favourites! And it kept very well.


Beside Cukerin in the old town part of Rijeka is Konoba Volta, their fried squid was absolutely delicious. It has a very romantic atmosphere with outdoor dining and candlelight, and you can go to Cukerin for dessert afterwards. Then meander the alleys and cobblestone streets of Rijeka and soak up the historical architecture.

Back in Selce, we explore the back alleys behind the smallest church in front of the tourist agency near Kava Anka (arguably the best coffee and icecream in all of Selce). Be sure to visit behind the church all the alleys of 13th division and beyond for surprisingly charming vignettes.

Crikvenica (below) has more of a city vibe, but a small one, beware the one way streets when driving! Shopping and groceries and the Crikvenica aquarium as well as the promenade and famous "dog beach" and of course "people" beaches are here. Selce-Crikvenica are often paired together, as Selce is a simple, small town that swells in the summer, and reverts back to small village after October. (Selce also has a "dog beach" for those with pets, in a small area near the campground.)

Selce sunset, a monument to the Tunar perch that honours the tuna fisherman of yore and is lit up at night, like a stairway to heaven. A great view from most of Selce, but Café Bonino has a nice vibe any time of day, as well as Tunar which is the "tuna boat" restaurant just 100 feet away.

My mom, a "Selcanka" (Selchanka, person raised in the village of Selce, Croatia) enjoying the spectacular view of Krk's rocky coast from the café veranda of Duga Mall, on the border of Selce-Crikvenica.

Selce's walking promenade is very long with a lively panorama of lights, music, fashion and people watching.

Vrbnik village on Krk island, accessible by boat from Selce, a great day trip.

Selce's kupaliste (Kupah-lishteh) beach, (below) great for families with fine rocks added to ease your way into the Adriatic with a larger shallow end. Tunar's boat shaped Restaurant in the background.

Mihuric Scuba diving outfit in Selce is a great place to participate in some interesting dive sites at least one of which is a shipwreck. Ahoy! Hope this gives you enough reasons to visit Selce, Crikvenica, Rijeka and Krk. Explore this blog for many more places to visit in Croatia such as Plitvice Park, Rastoke, Zagreb, Krk Island and more!
Don't forget to leave yourself at least 24 hours after diving before you fly to decompress from the effects of the dives which can interfere with your body's ability to adjust to flying's extreme altitudes of 30 to 40,000 feet.

Scuba diving was my first foray into meditation…a world of beauty, just beneath the surface. Hope this blog inspires you to visit Croatia, leave a comment, meditate or share.