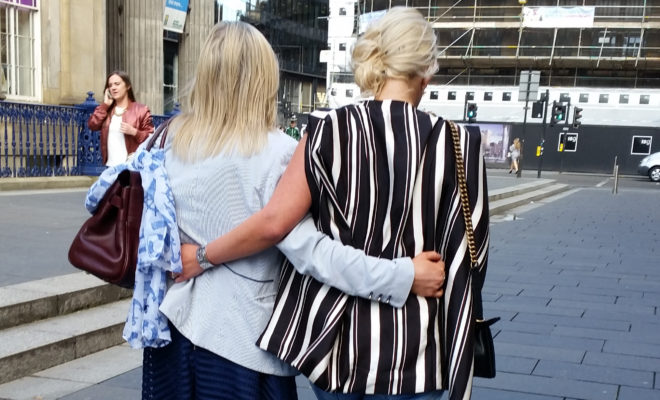 Places
Glasgow Great Local Eats and Surviving Cobblestone Streets in Heels
By |

All photos, fashion stalking and article by Paula Erskine
After many great eating experiences in Glasgow, Scotland, I was pleasantly ecstatic to come across…

in a dingy alley I wouldn't dare venture down without reason. It is located between the shops of Lush and Monsoon and is that delicate balance of delicious, great atmosphere, incredible value (as in, start the car, I think they undercharged me) and a best kept secret.
The fish and chips are very fresh, fried in clean oil, served on paper dishes and they have great tea specials. "Tea" means lunch/dinner special, usually includes tea or coffee, fish and chips, and is cheap, cheerful and fresh. Generous portions, a beautiful atmosphere, but don't let the empty chairs fool you. This restaurant sometimes requires reservations, as it is packed with locals as well. The trick is, that as Canadians, and North Americans in general, we eat our dinner quite early, what the Scottish sometimes deem as lunch, so we can benefit from "lunch specials" which tend to be cheaper than dinner menus. Always ask for the lunch menu in Europe, which may be available until 5:00pm in some restaurants. Chippy Doon The Lane is popular among locals. We all want to eat where the locals eat, and not get taken for a ride in overpriced, touristic restaurants. You can find them at this website and I promise you, it will delight your tastebuds.
The Chippy Doon the Lane
84 Buchanan St,
McCormick Lane,
Glasgow G1 3AJ
Call 0141 225 6650
http://thechippyglasgow.com/
Another way to make your Canadian dollar stretch in Europe is: If the waiter asks if you want to pay in Canadian dollars, say no, just the local currency. Your bank will convert it automatically which will be reflected on your credit card bill. Ultimately you are paying the Canadian equivalent even though your bill is in British pounds. When you request to pay in Canadian (which would only be possible via credit card, not cash) then you are charged a fee for this convenience which is added to your bill. So keep your money in your pocket! Now don those heels, grab a hold of a friend, and navigate those cobblestone streets knowing your friends will steady your gait.