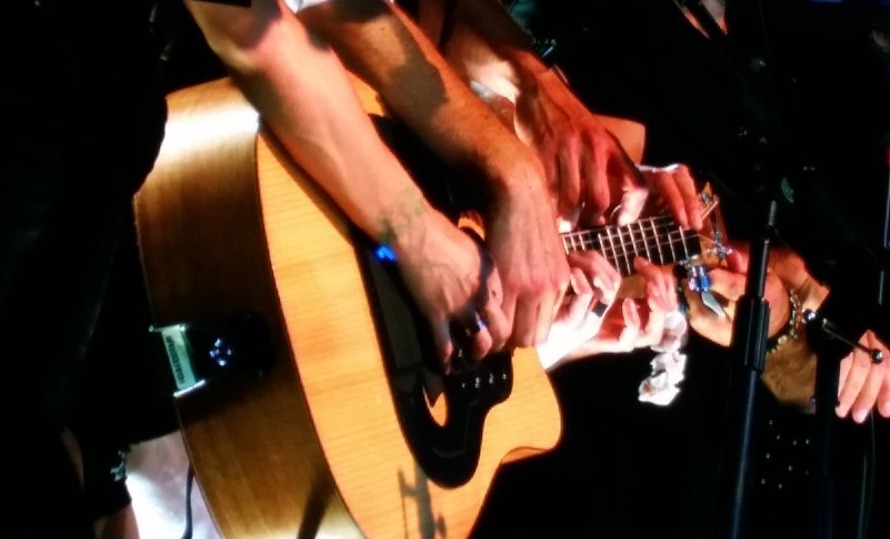 See, Do, Visit
Walk Off The Earth Kick Off in Burlington at Sound of Music Festival 2017, World Class Performances, Burlington Bred!
By |
Walk Off The Earth, Burlington bred, delivered a World Class Performance at the Sound of Music Festival held in Burlington, Ontario which starts this week June 15th-18th, 2017 at Spencer Smith Park. They delivered an epic concert, they surprised us, they entertained us, their talented selves played a medley of more than seven songs with five members on one guitar!
When Walk Off The Earth covered Gotye's "Someone I used to Know" (from Australia), playing one guitar together, they had no idea that actor/musician Russell Crowe would tweet about it. This led to millions of hits on you tube and a television spot on Ellen in the U.S.A. The rest is history, but Walk Off The Earth backed it up with loads of talent. So although the show was incredible already, with multiple musicians switching from several instruments each, including kazoos, accordian, guitars, base, drums, electronics, keyboards, and more, Walk Off The Earth did not do what we expected them to do, which was to repeat the performance. They exceeded our expectations, playing one guitar, starting off with "Someone I used to Know" then parlaying that into, at least 7 more songs.
I had to stop counting, because it was so original, with an understanding of how a medley can connect songs (with a shout out to a Beatles cover), and the crowd went ballistic. It is without question, that the happiness that Walk Off The Earth can spread is absolutely, irrevocably, contagious. And their message, if I can be so bold, may be, that maybe, we are all in this, this earth, this world, together, so let's play together, let's sing together, let's enjoy and spread that love for all of mankind right into the atmosphere. Deep down, we all know, we all have the power to change this world for the better.
But there were more surprises in store, Walk Off The Earth is…pregnant! That's right, pregnant mega musician Sarah Blackwood, lead singer, filtrating harmonies and lit up the stage in collective fashion.


Gianni Luminati expressed his concerns when he described "ninjas" harassing others, so he better learn Tae Kwon Do to protect his family. In his white, baggy, jumpsuit, reminiscent of Beastie Boys days, he was ready to battle the negative forces on stage with dancing Tae Kwon Do-ists. His is a different kind of battle, the power of a great song! We heard Gianni sing, rap, harmonize, reggafy, funkafy, sing falsetto while flawlessly moving about stage from lead singer, to guitar, to drums, to kazoo. There is nothing Gianni doesn't do on stage that doesn't hit a chord in our heartstrings. You just know he is beautiful inside and out. Walk Off The Earth's lyrics and choice of song, are otherworldly, they shoot for the moon, shine like the sun, and emit stars. The band also performed acapella.
Walk Off The Earth also invited famous beat boxer Terry to perform with them on stage and then prove solo, that he was a music machine https://www.facebook.com/KRNFX/. What Terry does with his voicebox is insane. The whole crowd went crazy, again.
The Sound of Music Kickoff Concerts on June 11 was one of the best performances I have ever see in my life. I hope this excerpt inspires you to support these musicians by buying their music and feeding your soul. You can find Walk Off The Earth at http://www.walkofftheearth.com/ Their new album is called Fire In My Soul. Let's make this world a better place by supporting the arts and musicians. They have a story to tell that just may save the world as we know it by inspiring us to live in harmony on this, the planet we share. For more Sound of Music Free Concerts in Burlington 2017, check out the festival lineup happening this Father's Day week June 15th-18th, 2017 right here: https://soundofmusic.ca/lineup/ And while you're at it, you can support Canada's largest Free Outdoor Festival too.